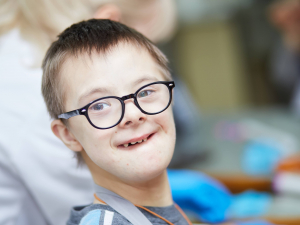 Target:
20000 UAH
Collected:
20000 UAH
Created:
29-04-2022
Completed:
09-05-2022
Status:
Completed
11-YEAR-OLD ROMA WITH DOWN SYNDROME NEEDS YOUR HELP!
Roma was a long-awaited child and was born healthy. But when the boy was 3 months old, his parents noticed a certain developmental delay in comparison with his peers. That's how Chikarenko family learned about their son's diagnosis - Down syndrome.
Now Roma is a pupil of the 4th school's grade and is learning about the world around him. Hard work with rehabilitators bears fruit. He is a healthy baby and differs from other children only in chromosome set.
In order not to lose all the acquired skills, Roma needs regular training with specialists. It is very exhausting financially, so the boy's parents turn to everyone who cares for help. Please support Roma!
Name: Chikarenko Roman Andreevich
Date of birth: 14.10.2010
Diagnosis: Down syndrome, hypothyroidism, moderate mental retardation
The purpose of the project: raising UAH 20,000 for a rehabilitation course at the TIM training and correctional center