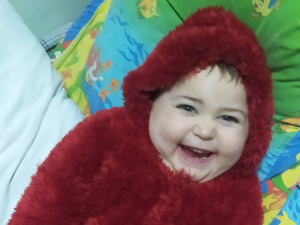 Target:
15500 UAH
Collected:
15500 UAH
Created:
06-05-2022
Completed:
09-05-2022
Status:
Completed
​3-YEAR-OLD VERONICA WITH EPILEPSY NEEDS SUPPORT!
Veronica Vynnyk loves singing toys and audio tales, but at such a fragile age she is already forced to fight the consequences of a serious illness.

The girl has a difficult diagnosis - Drave syndrome. This is one of the most severe forms of kid's epilepsy. This disease often causes unavoidable psychomotor disorders and can even be fatal.
Daily hard work helps Veronica to improve her health. The main rule is not to stop. After all, in Veronica's case, every missed rehabilitation course is dozens of steps back.
The rehab courses should be regular and therefore expensive. Veronica's mother asks caring people to respond and give her daughter a chance for a happy childhood without pain.
Name: Vynnyk Veronika
Date of birth: January 31, 2019
Diagnosis: Genetic epilepsy. Drave syndrome
The purpose of the project: to raise UAH 15,500 to pay for a rehabilitation course at the 'Victoria' Child Rehabilitation Center'