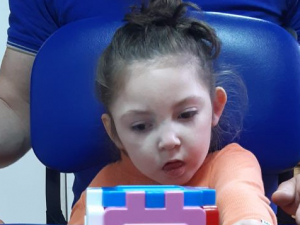 Target:
23085 UAH
Collected:
500 UAH
Created:
12-05-2022
Status:
Open
​DARINA LUTCHYN NEEDS REHABILITATION IN JULY AND HOPES FOR SUPPORT!
5-year-old Daryna is a beloved and desired daughter. But as a result of difficult childbirth, the baby was born in an extremely serious condition and now, unfortunately, has developmental disabilities. In the first months of her life, Daryna refused to eat, slept badly, and lost weight.

After lengthy and exhausting medical tests, doctors diagnosed her with severe early-onset CNS damage. From that moment, the Lutchin family's life turned into a continuous struggle for a healthy future for their daughter.
The little girl has more than 20 rehabilitation courses behind her. Thanks to classes with specialists, Daryna began to eat from a spoon, began to hold her head better, fix her gaze and understand the speech.
The key to Daryna's further development is constant rehabilitation measures. It is very expensive for an ordinary Ukrainian family. In July, Daryna's parents are waiting for the next course and ask for help from everyone who cares about the fate of their daughter!
Name: Lutchyn Daryna
Date of birth: 15.07.2016
Diagnosis: Early organic lesions of the CNS. Microcephaly. Spastic tetraparesis
The purpose of the project: to raise UAH 23,085 to pay for a rehabilitation course at the International Rehabilitation Clinic of Prof. Kozyavkin