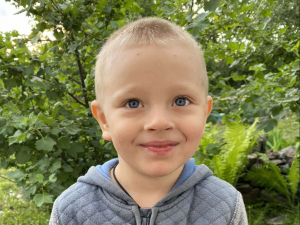 Target:
70000 UAH
Collected:
9200 UAH
Created:
27-05-2022
Status:
Open
SAVE 4-YEAR-OLD TIMUR!
More than a year ago Timur Shaidets first encountered his own insidious diagnosis — non-blood clotting. This disease may not become a verdict for a young patient only with regular therapy, using the expensive drug 'Revolad'. Without it, a child can die from the slightest scratch!
To help his son, the parents were forced to get financial debts. And now, after Timur's father lost his job due to the war, the family is terrified of their son's future.
Despite the diagnosis, Timur is a very cheerful boy. He watches cognitive cartoons with interest and flips through children's books.
Please help Timur to live! The family won't cope without your support!
Name: Shaydets Timur Alexandrovich
Date of birth: May 11, 2018
Diagnosis: Idiopathic thrombocytopenic purpura, recurrent
The purpose of the project: to raise UAH 70,000 for the purchase of maintenance drugs and to pay for laboratory tests