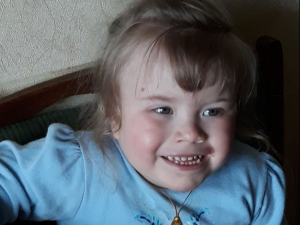 Target:
20000 UAH
Collected:
50 UAH
Created:
23-06-2022
Status:
Open
​6-YEAR-OLD OLYA DOES NOT SPEAK! THE GIRL NEEDS REHABILITATION!
Olya is a long-awaited "ray of light" in the Nikitin family. Unfortunately, from birth the girl had malformations. When Olya was 1 year old, she had an epileptic seizure. The initial examination could not find the root cause, so the little patient was examined at the Kharkiv Medical Genetic Center.

There, Olya was confirmed to have a set of complex diagnoses, including: disorders of sulfur-containing amino acid metabolism, motor disorders syndrome, episyndrome, delayed psycho-speech development.
Despite terrible diagnoses, Olya radiates positivity, loves hugs and music. The girl does not speak yet, but the parents believe in the child's persistence and effectiveness of treatment.
Now Olya is forced to constantly take anticonvulsants. In her case, developmental delay is manifested not only in the absence of speech - the girl's brain is inactive. This leads to certain behavioral disorders.
However, it is possible to improve the child's health! The main thing is not to miss classes with specialists. The girl needs to work with speech therapists, psychologists, speech pathologists.
Olya's parents do not have enough money for all the necessary tests, courses and medicines. The Nikitin family cannot cope without your support! Please join the collection!
Name: Nikitina Olga Yuriyivna
Date of birth: 01.07.2016
Diagnosis: Disorders of sulfur-containing amino acids. Hyperhomocysteinemia. Secondary mitochondrial dysfunction. Motor disorders syndrome. Myopathic syndrome. Episyndrome. Delayed psycho-speech development.
The purpose of the project: to raise UAH 20,000 to pay for a rehabilitation course at the TIM training and correctional center