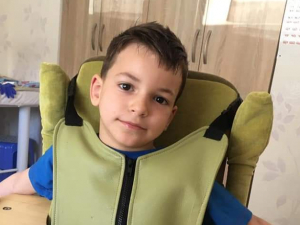 Target:
23085 UAH
Collected:
23100 UAH
Created:
01-08-2022
Completed:
14-08-2022
Status:
Completed
​7-YEAR-OLD NAZAR WANTS TO STUDY TOGETHER WITH HIS PEERS! HELP HIM OVERCOME THE CONSEQUENCES OF CP!
Nazar was born difficultly. The boy spent the first days of his life on a lenghs ventilator. Nazar was discharged from the hospital in 5 weeks. And already at 11 months, the child was diagnosed with cerebral palsy.

Now Nazar is 7 years old. He likes cognitive games, draws with joy. The boy has an older sister who helps him in everything, plays with him and takes care of him.
Nazar does everything in his power to catch up with his peers in development. In addition to classes at home, he systematically visits rehabilitators. Only regular rehabilitation can give the boy a chance for a healthy future.
The rehabilitation course costs a lot, so the Dumanskyi family asks everyone who cares to join the urgent collection!
Full name: Nazar Andriyovych Dumanskyi
Date of birth: 15.05.2015
Diagnosis: cerebral palsy spastic tetraparesis
The goal of the project: to raise UAH 23,085 to pay for the rehabilitation course at the International Rehabilitation Clinic of Prof. Kozyavkin