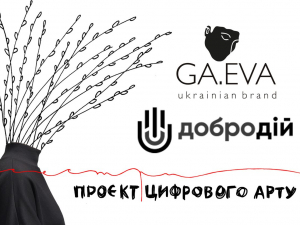 Target:
242200 UAH
Collected:
40490 UAH
Created:
08-08-2022
Status:
Open
"...AND FLOWERS WILL GROW ON THE ASHES" - CHARITY PROJECT OF DIGITAL ART OF THE GAYEVI SISTERS"
Gaevі sisters are artists from Dnipro, founders of the GA.EVA brand, which embodies art in clothes, and great-granddaughters of Maria Prymachenko. Alina's paintings are kept in private collections in Switzerland and Germany. The clothes created by Karina became an exhibit of the historical museum in Dnipro.
As part of the project, which combines authentic and digital art during the war, you will be able to see an exhibition of digital and generative art by the Gaevi sisters, attend master classes, a show of designer clothing by the GA.EVA brand, a dance performance by the GLUBZHE company, etc.
The exposition will be completed by a charity auction. All those, who wish to join will have the opportunity to purchase unique clothing, accessories, reproductions and ownership of a unique digital image and its NFT token. You can join from anywhere in the world online at the link: https://instagram.com/fabrica.art.auction?igshid=YmMyMTA2M2Y=.
The funds raised from the auction will be used to purchase specialized backpacks for paramedics.
Currently, each unit in the Ukrainian army has an average of 6 paramedics who work according to the TCCC protocol. This is the generally accepted world standard of military pre-hospital care. Such a protocol provides a set of manipulations and a clear sequence of actions.
In combat conditions, the situation can be unpredictable. There are severe polytraumas and injuries for which there is not enough equipment in the individual first-aid kit. Then a paramedic comes to the rescue with his backpack, which contains everything necessary to save the lives of 10 to 12 people.
Charity Exchange "DobroDiy" acts as an operator of charitable assistance and is responsible for full transparency and reporting on collected funds. Each lot purchased at the auction is a saved life of a serviceman! Join us and turn art into a lifesaver for our soldiers!
The goal of the project: to raise UAH 242,200 for 20 paramedical backpacks with accessories for providing military pre-hospital care.
Александр
06-09-2022
18:04
Яна Лоскутова
05-09-2022
23:23
olesyagarenko@gmail.com
30-08-2022
17:13
Світлана
27-08-2022
14:26
Холод Сергій
23-08-2022
21:27
Фітнес Інтеграл Функцій
23-08-2022
20:24
Ілона Куліковська
21-08-2022
19:39
Катерина
21-08-2022
07:21
tatyana.dashevska@gmail.com
19-08-2022
14:14
Володимир
11-08-2022
12:30