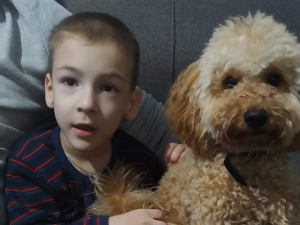 Target:
20000 UAH
Collected:
20000 UAH
Created:
17-08-2022
Completed:
02-09-2022
Status:
Completed
​6-YEAR-OLD DENIS WITH SEVERE DIAGNOSES WANTS TO BE HEALTHY!
Denis Berezhny is 6 years old and has been constantly fighting for his health since childhood. Due to premature birth, Denis got complex diagnoses: internal hydrocephalus, spastic diplegia, epilepsy.

However, numerous rehabilitation courses give positive results. The boy undergoes treatment, and the diseases gradually recede. Denis has a chance to become independent, walk, learn and develop.
But the boy cannot do without our support. The course of treatment is quite expensive and the Berezhny family will not be able to pay for it on their own. We ask you to help the kid complete an important rehabilitation course this September!
Full name: Denis Eduardovych Berezhny
Date of birth: 26.10.2015
Diagnosis: Internal hydrocephalus. Spastic diplegia. Delay in psycholinguistic development.
The goal of the project: to raise UAH 20,000 to pay for a rehabilitation course at the hippotherapy center
Olga Kudrytska
02-09-2022
11:36
Денис Бережний з важкими діагнозами розпочне курс реабілітації вже цього місяця!
​Ми щасливі, коли маємо змогу підтримувати і реалізовувати наш основний напрям діяльності - допомогу важкохворим дітям.