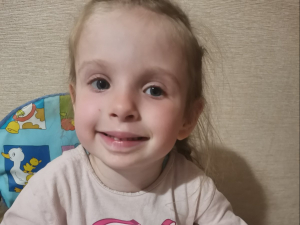 Target:
10500 UAH
Collected:
10500 UAH
Created:
19-09-2022
Completed:
20-09-2022
Status:
Completed
​​URGENT FUNDRAISING! HELP A 5-YEAR-OLD KATYA TO OVERCOME THE CONSEQUENCES OF A TERRIBLE DISEASE!
Due to family circumstances, the course of rehabilitation classes has been postponed indefinitely. With the consent of the mother, unused funds were redistributed to the projects of Roma Rotkо and Myroslava Makarenko.

On September 17 Katya Denisenko turned 5 years old. On this day, we would like to wish Katya to be healthy and happy. You can also join and support the girl, because now she needs urgent help with the payment of rehabilitation!

The girl was born prematurely. At 1.5 months, doctors diagnosed her with a terrible diagnosis - cleft of the hard and soft palate. Later, Katya was examined in Okhmatdyt hospital. It turned out that in addition to existing diagnoses, the girl has a genetic defect - Shereshevsky-Turner syndrome, a mosaic form. Hormone therapy is needed to correct this complex disease.
Physiotherapists worked with Katya. At 5 months, the girl was already confidently holding her head, began to turn over. And the first rehabilitation course in 2021 showed excellent results: the child began to pick up food and walk properly. Katya's coordination of movements improved, the girl learned to fasten buttons, tie shoelaces; the tonus of the tongue has noticeably decreased.
At the end of October, Katya is expected to attend scheduled classes. She needs to get on the course in order to maintain positive dynamics and acquire new skills. To continue to fight for Katya's health, a lot of money is needed! Please help her continue the rehabilitation! Give the girl a chance for a happy childhood!
Full name: Denysenko Kateryna Bohdanivna
Date of birth: 17.09.2017
Diagnosis: Shereshevsky-Turner syndrome. Cleft of the hard and soft palate. Consequences of intranatal hypoxic-traumatic damage to the central nervous system.
The goal of the project: to collect UAH 10,500 to pay for a rehabilitation course at a rehabilitation center
Новоточиновы
20-09-2022
23:15