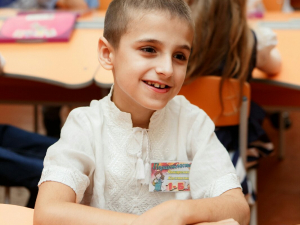 Target:
50020 UAH
Collected:
500 UAH
Created:
22-09-2022
Status:
Open
​WITH BRAIN DEFECT NEED DIAGNOSTICS! HELP THE GUY FIGHT THE DISEASE!
Kostya Chikarenko is 8 years old and has been accompanied by complex diagnoses throughout his life. The boy was born prematurely. During discharge, the mother noticed that the child's hands were clenched into fists. But the neurologist reassured her and convinced her that it was not a problem.

However, alarming signals about Kostya's health continued to arrive. At the age of three months, the boy did not follow the toys and did not respond to his mother. Now Kostya is already able to sit and walk along the support, holding on to it. His gait is becoming more confident. The boy collects a pyramid, reads, draws and sings.
This year, on September 1, Kostya became a schoolboy, entering the first grade. However, major health problems prevent the boy from fully studying. On the last MRI, progressive atrophy of the cerebellum was detected...
The geneticist recommended an additional examination for the presence of metabolic disorders or congenital pathologies. This diagnosis will make it possible to identify the problem, choose the necessary treatment regime, and stop the progressive process.
Currently, doctors assess the dynamics of the child's development as weakly positive. Properly selected drug therapy can stabilize Kostya's condition and significantly increase his chances for better prospects in comprehensive development.
Full name: Chikarenko Kostyantyn Andriyovych
Date of birth: 25.06.2014
Diagnosis: Malformation of the brain. Spastic tetraparesis. Severe mental retardation
The goal of the project: to raise UAH 50,020 to pay for genetic research at the reproductive medicine clinic «Nadiya»