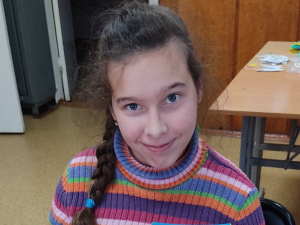 Target:
25000 UAH
Collected:
25000 UAH
Created:
17-11-2022
Completed:
07-12-2022
Status:
Completed
​14-YEAR-OLD ALISA WITH CP DREAMS OF BECOMING A VETERINARY! HELP THE GIRL OVERCOME THE CONSEQUENCES OF DISEASE!
Alisa Grigorenko has been diagnosed with cerebral palsy since birth. Despite this, she studies diligently and is interested in everything that surrounds her. The girl is extremely kind and responsive.

For several years in a row, Alisa dreams of becoming a veterinarian, to get a profession and save animals. At home, the Hryhorenko family have many pets: two stray dogs, three rescued cats and a parrot.
Alisa likes to draw and wants to improve her skills. But classes at the art studio are not affordable for the family. All the costs go to treatment and rehabilitation. After all, a child's biggest dream is to walk independently!
Now the Hryhorenkos, like all Ukrainians, are being tested by the war,which continues. Because of the danger, Alisa and her mother moved to Cherkasy from their native Slovyansk.
Alisa's father does not take part in the upbringing of his daughter. So the girl and her mother are trying to provide for themselves together. Now they are asking for help from caring people.
Please help the girl go to the rehabilitation course in January 2023!
Full name: Alisa Oleksandrivna Hryhorenko
Date of birth: 14.08.2008
Diagnosis: cerebral palsy. Spastic tetraparesis
The goal of the project: to raise UAH 25,000 to pay for the rehabilitation course at the "Vernyhora" sanatorium
SlonCredit
07-12-2022
08:57