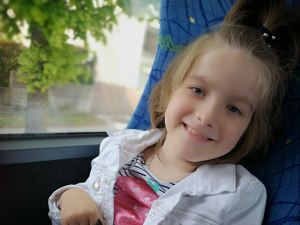 Target:
25000 UAH
Collected:
25000 UAH
Created:
17-11-2022
Completed:
11-12-2022
Status:
Completed
​HELP 8-YEAR-OLD MASHA WITH CP TO GET ON HIS FEET!
Maria Prutas is 8 years old. She has complex diagnoses, including cerebral palsy and psychomotor retardation. The child was born prematurely, at 29 weeks, with a weight of 1200 g. For two months, the baby was in the hospital under the strict supervision of doctors.

Already from the first year of life, Maria began intensive classes with rehabilitation specialists, massages, physical therapy, etc. Together with her mother, she visited medical centers in Kharkiv, Odesa, Dnipro, Kropyvnytskyi, Kyiv and other cities of Ukraine.
Thanks to regular classes, Masha learned to eat on her own, talk, and understand spoken speech. She has new goals ahead of her: to learn to sit on her own and, of course, to take her first steps.
Unfortunately, Maria's father is not involved in his daughter's upbringing in any way. The mother, who takes care of the child alone, is helped by Maria's grandparents. However, classes with rehabilitators are very expensive. Masha's relatives are not able to pay for each course on their own. Please help them pay for the scheduled rehabilitation course in January!
Full name: Prutas Maria Danylivna
Date of birth: 25.02.2014
Diagnosis: cerebral palsy. Spastic tetraparesis with persistent movement disorders in the form of lack of independent movement. Mixed hydrocephalus. Shortening of the left lower leg. Dysarthria against the background of delayed psychomotor development
The goal of the project: to raise UAH 25,000 to pay for a rehabilitation course at the hippotherapy center
Новоточиновы
11-12-2022
20:22
SlonCredit
07-12-2022
08:58