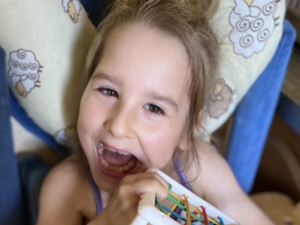 Target:
25000 UAH
Collected:
25000 UAH
Created:
22-11-2022
Completed:
13-12-2022
Status:
Completed
​7-YEAR-OLD KARINA WITH SEVERE DIAGNOSES NEEDS REHABILITATION! HELP PAY FOR THE FEBRUARY COURSE!
As a result of difficult childbirth and hypoxia, little Karina Bratishko developed severe diagnoses, including microcephaly and spastic tetraplegia. Therefore, the child regularly works with rehabilitators and defectologists from an early age.

Now the girl is 7. She is cheerful, although she cries quite often, because she can't speak and communicate her wishes. Karina loves to be talked to, willingly to be in the center of attention. He also likes children's fairy tales, songs and cartoons.
Karina needs regular rehabilitation measures, because her body is actively growing. Please help the family pay for the course of classes scheduled for January!
Full name: Bratishko Karina Vladyslavivna
Date of birth: 05.11.2015
Diagnosis: Congenital malformation of the brain, microcephaly. Spastic tetraplegia. Cognitive disorders
The goal of the project: to raise UAH 25,000 to pay for a rehabilitation course at the hippotherapy center
CreditPlus
13-12-2022
09:54
SlonCredit
07-12-2022
08:58