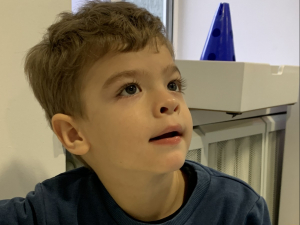 Target:
22600 UAH
Collected:
22600 UAH
Created:
19-12-2022
Completed:
10-01-2023
Status:
Completed
​4-YEAR-OLD MARK WITH EPILEPSY NEEDS A DIAGNOSIS! COMPLEX DIAGNOSES OBSCURE A HAPPY CHILDHOOD...
Mark Beley is 4 years old. He adores books and rhymes for kids. Due to complications of the disease, the boy does not speak, but it is easy to communicate with him. The child rarely cries and is not capricious at all. Mark is easy to make laugh.

2 years ago, despite the disappointing forecasts of doctors, the boy took his first steps. Now Mark is acquiring new skills every day and his potential is amazing! However, in order to consolidate the results, regular treatment and rehabilitation are necessary.
Only dad works in the family. Mom can't leave Mark alone even for an hour. The child requires constant supervision. Every month, the parents spend more than UAH 10,000 on maintenance treatment for their son. In addition, Mark needs regular medical examinations once every six months. This is necessary to monitor the child's condition and, if necessary, adjust drug therapy.
"DobroDiy" is opening a fundraiser to help the family pay for Mark's diagnosis at the "Epi.net" center next year.
Full name: Beley Mark Volodymyrovych
Date of birth: 09.11.2018
Diagnosis: Spastic diplegia, structural epilepsy, Vest syndrome (remission). Delayed psycho-motor development
The goal of the project: to raise UAH 22,600 to pay for 2 diagnostic courses
CreditPlus
10-01-2023
13:26
Перерозподіл коштів з проєкту 1179 (Ткач Максим)
20-12-2022
14:17