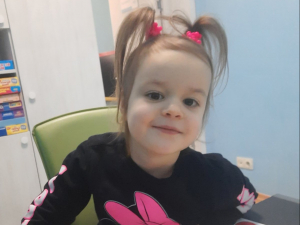 Target:
25000 UAH
Collected:
25000 UAH
Created:
21-12-2022
Completed:
10-01-2023
Status:
Completed
​SUPPORT 4-YEAR-OLD CAROLINA WITH CP IN HER FIGHT FOR A HEALTHY CHILDHOOD!
When Carolina was only 1 month old, she got meningitis. The baby endured the disease extremely hard: she was under a ventilator in the intensive care unit. For the first 4 months, the girl fought hard for her life.

Meningitis provoked the appearance of other diagnoses: bilateral pneumonia, sepsis, hydrocephalus, kidney damage. In the end, Carolina was discharged home in satisfactory condition. But the hydrocephalus progressed. The child had a delay in development. Over time, doctors established Carolina's final diagnosis — cerebral palsy.
From the age of 7 months, Carolina began to undergo rehabilitation courses. But almost at the age of 2, the girl had a relapse of epileptic seizures. The little patient was admitted to the intensive care unit with convulsions. She underwent brain surgery there.
Unfortunately, the convulsions did not stop, and the child was hospitalized from time to time. Doctors could not find effective therapy for a long time. The family even turned to Turkish specialists. Unfortunately, that was unsuccessful too.
Finally, when Carolina turned 4 years old, hormone therapy prescribed by doctors had a positive effect on her well-being. So the child's condition improved, and the girl began to speak some words.
Parents strive with all their might to put their daughters on their feet. Carolina is under the constant supervision of neurosurgeons, neuropathologists, and an epileptologist. Now the girl regularly works with the teacher.
However, the family does not have enough funds for all the necessary activities. Please support Carolina, because already on February 1, she is expected to attend classes with a rehabilitator.
Full name: Carolina Valentynivna Melnychuk
Date of birth: 11.08.2018
Diagnosis: cerebral palsy, spastic hemiplegia with persistent movement disorders, delayed motor development, hydrocephalus, epilepsy
The goal of the project: to raise UAH 25,000 to pay for a rehabilitation course at the "TIM" educational and correctional center
CreditPlus
10-01-2023
13:26