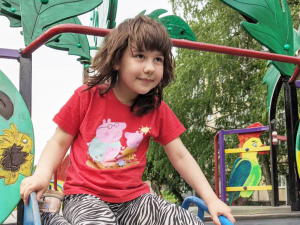 Target:
25000 UAH
Collected:
25000 UAH
Created:
23-12-2022
Completed:
10-01-2023
Status:
Completed
​6-YEAR-OLD KIRA WITH AUTISM REALLY WANTS TO GET UP TO HER DEVELOPMENTAL AGE
Kira Maiboroda is a cheerful, smiling and positive girl. When she was 3 years old, her mother noticed that her daughter did not behave like other children. The family sounded the alarm and turned to doctors. Within a year, doctors were able to finally establish Kira's diagnosis of autism. Since then, the child needs regular classes with specialists.

Kira is thirsty for knowledge. Everything new is her joy. She is gentle and friendly, and likes to hug. The girl knows the alphabet and English letters, but, unfortunately, she still does not speak. There is a lot of work ahead, a difficult and expensive path that Kira and her mother cannot cope with alone.
The next course of rehabilitation is scheduled for February. But it is expensive. Therefore, the family appeals to everyone who cares for help!
Full name: Maiboroda Kira Araivna
Date of birth: 05.03.2016
Diagnosis: Children's autism. Lack of speech. Severe maladaptation
The goal of the project: to raise UAH 25,000 to pay for a rehabilitation course at the hippotherapy center
CreditPlus
10-01-2023
13:26