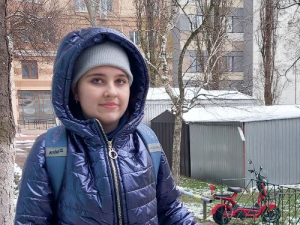 Target:
25000 UAH
Collected:
25000 UAH
Created:
23-12-2022
Completed:
10-01-2023
Status:
Completed
​14-YEAR-OLD NASTYA WITH AUTISM MUST LEARN TO SPEAK. SUPPORT HER!
Nastya Svidro has a complex diagnosis — autism spectrum disorder. But thanks to the perseverance of the mother, teachers and speech pathologists, the child acquired many skills: she learned to read, count and write.

Nastya is a friendly and diligent girl. She learns to play the piano, attends a drawing group. The girl plunges headfirst into these hobbies. Unfortunately, Nastya has great difficulties with speech. She needs to work with a speech therapist and a speech pathologist.
The father does not take part in the upbringing of his daughter. He does not support Nastya at all: neither morally nor financially. The girl's mother is raising the child on her own. It is difficult for the family to regularly pay for rehabilitation courses. There are no funds for the next course in February.
Please support Nastya on her difficult path!
Full name: Svidro Anastasia Serhiivna
Date of birth: 16.04.2008
Diagnosis: Autism with a qualitative violation of the receptor interaction of communication, disorder of receptive language
The goal of the project: to raise UAH 25,000 to pay for the rehabilitation course at the "Victoria" Child Rehabilitation Center
CreditPlus
10-01-2023
13:26