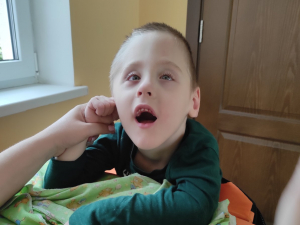 Target:
25099 UAH
Collected:
25099 UAH
Created:
29-12-2022
Completed:
10-01-2023
Status:
Completed
​A 5-YEAR-OLD TARAS WITH CP NEEDS REHABILITATION!
Taras Levchenko was born prematurely, at the 25th week, weighing only 760 g! The baby spent 3 months in the intensive care unit, and then spent a long time in various hospitals. During that time, little Taras underwent three surgeries. Surgeons treated eye retinopathy, inguinal hernia, and complete intestinal obstruction.

At 7 months, the boy came home for the first time. He could not breathe without a ventilator. The next stage of painstaking work has begun for the family. A rehabilitator came to the Levchenkos' home. Then the parents and the baby started visiting rehabilitation centers.
During that period, Taras began to have epileptic seizures. He was diagnosed with episyndrome, and anticonvulsant drugs were prescribed. At the age of 3, the epileptic seizures disappeared, but the epiactivity of the brain still forces Taras took appropriate medication. At the age of 4, the baby had one more surgery and the choroid plexus tumor was removed.

Now Taras Levchenko is 5 years old. He is a cheerful and kind boy with a great desire to live. Unfortunately, his body is bound by spasticity. The child does not walk and can sit only with support. Spasticity led to dislocation of the hip joint, which was operated immediately after the diagnosis. Now the boy needs more intensive rehabilitation. Otherwise, operative intervention will not have an effect.
Taras's parents appeal to everyone who cares for help in paying for the rehabilitation course in February. They cannot pay for all the necessary activities for their son on their own. The fight for his health is expensive and exhausting. Please support the Levchenko family!

Full name: Taras Yaroslavovych Levchenko

Date of birth: 28.06.2017
Diagnosis: cerebral palsy, spastic tetraparesis
The goal of the project: to raise UAH 25,099 to pay for the rehabilitation course at the "Bobat Center"
CreditPlus
10-01-2023
13:27
Перерозподіл коштів з проєкту 1283 (Підопригора Богдан)
05-01-2023
12:46