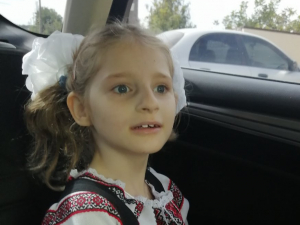 Target:
21000 UAH
Collected:
21000 UAH
Created:
05-01-2023
Completed:
19-01-2023
Status:
Completed
​7-YEAR-OLD MILANA WITH ANGELMANN SYNDROME DREAMS OF A HEALTHY FUTURE. SUPPORT HER!
Milana was born at term. Only the blood test results alarmed the doctors. However, after a few days, the baby was discharged home together with the mother. Unfortunately, Milana started having problems with food at home. The girl cried a lot. The baby was examined by many doctors, but an exact diagnosis could not be established.

Meanwhile, the child was getting weaker. Only when Milana was 10 months old, doctors finally established her terrible diagnoses — spastic tetraparesis, epileptic syndrome, organic damage to the central nervous system.
Epileptic seizures were managed to be curbed with the help of hormone therapy. However, the general condition of the girl did not improve. Milana was not interested in toys, could not roll over or sit on her own.
The child has come a long and painful way. Through dozens of examinations, medications, diagnoses, courses of massages and physical therapy, the girl gradually began to master new skills. Milana learned to sit on her own, and later to walk on her own.
Among the girl's diagnoses, another one was found - Angellman syndrome. This is a genetic disease characterized by mental retardation, sleep disturbances, seizures, and chaotic movements.
Now Milana is 7 years old. She knows how to move independently, although she still has problems with coordination. Due to epi-activity, the girl is forced to take special meds and undergo regular examinations. Milana works with a psychologist and a speech therapist.
Milana's mother has a catastrophic lack of funds for her daughter's treatment. Unfortunately, the girl's father died when she was barely 1 year old… Please support the girl in her difficult struggle for the future!
Full name: Milana Viktorivna Ovcharenko
Date of birth: 24.03.2015
Diagnosis: Mixed tetraparesis with severe impairment of the lower limbs. Damage to the central nervous system. Angelman syndrome. Delay in psycho-speech development, epileptic syndrome.
The goal of the project: to raise UAH 21,000 to pay for the rehabilitation course at the "Victoria" Child Rehabilitation Center