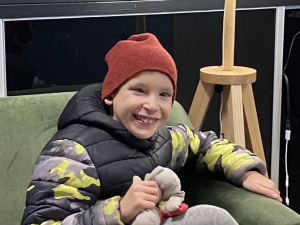 Target:
25000 UAH
Collected:
25000 UAH
Created:
09-01-2023
Completed:
10-01-2023
Status:
Completed
​HELP 12-YEAR-OLD ARSENIY WITH DEFECTS OF BRAIN DEVELOPMENT!
Arseniy Chaus started fighting for his health and life from the day he was born. The boy was born with congenital defects - hypoplasia of the corpus callosum, epileptic encephalopathy. Every acquired skill, every step of development was extremely difficult for him.

Every year, Arseniy worked hard with rehabilitators and speech pathologists. He worked on physical and intellectual development. These efforts turned out to be not in vain: Arseniy studies in a specialized school, performs in the inclusive theater "Nezabudky", and swims.
At the same time, the boy still needs classes with a speech therapist, a correctional teacher, a psychologist, and a specialist in physical therapy. Rehabilitation courses are necessary for Arseniy to improve the quality of life and socialization in general.
Treatment is very expensive, so the Chaus family cannot cope alone. Arseniy's parents are asking for help paying for the child's next planned course of rehab. After all, skipping courses is strictly not recommended — it can cost the acquired skills and abilities.
Full name: Chaus Arseniy Andriyovych
Date of birth: 21.06.2010
Diagnosis: Congenital malformation of the brain. Specific epileptic syndromes. Moderate mental retardation
The goal of the project: to raise UAH 25,000 to pay for a rehabilitation course at the TIM educational and correctional center
CreditPlus
10-01-2023
13:27