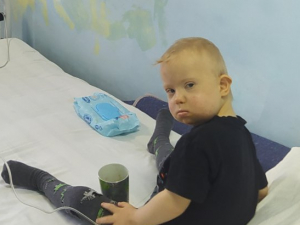 Target:
50000 UAH
Collected:
50000.49 UAH
Created:
10-01-2023
Completed:
16-01-2023
Status:
Completed
​4-YEAR-OLD ROSTYSLAV WITH LEUKEMIA AND DOWN SYNDROME NEEDS EXPENSIVE TREATMENT!
This is the case when, unfortunately, the consequences of a severe cold turned out to be oncology for a young patient. Little Rostyk from Nikopol was sent to the Regional Medical Family Health Centre in Dnipro immediately after the diagnosis was confirmed. Thus began his battle with blood cancer.

Now the boy is 4 years old. He really likes to play, dance, sing, listen to music. Rostyk is very flexible and easily sits on the twine. Before his illness, he was gentle and playful. But in the walls of the hospital, he became irritable and nervous. According to doctors, this is a side effect of chemotherapy.
The child has a complex additional diagnosis — Down's syndrome. And it also leaves its mark on the treatment. Please help Rostyk to recover! Give him a chance for a healthy life without cancer!
Full name: Grydasov Rostyslav Serhiyovych
Date of birth: 09/03/2018
Diagnosis: Acute lymphoblastic leukemia, B-common ALL-type, CNS1, I acute period, high-risk group.
The goal of the project: to raise UAH 50,000 for the purchase of supportive drugs and to pay for lab tests.
Новоточиновы
16-01-2023
22:07
Перерозподіл коштів з проєкту 1146 (Гридасов Ростик)
10-01-2023
14:49
CreditPlus
10-01-2023
14:47