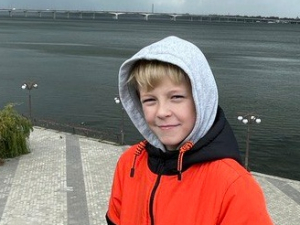 Target:
49800 UAH
Collected:
49800 UAH
Created:
23-01-2023
Completed:
23-01-2023
Status:
Completed
​HELP 9-YEAR-OLD KYRYLO WITH A HEARING IMPAIRMENT TO HEAR THE WORLD!
Kyrylo Vegera has been fighting for his life and health since birth. The baby was born before the specified term. Doctors saved the lives of the mother and the baby. When Kyrylo turned 5, he was diagnosed with bilateral chronic sensorineural deafness of the 3rd level.
Despite this, Kyrylo grows up as a very active child. He is fond of sports. The boy plays tennis and hockey together with his grandfather. But more than anything, Kyrylo loves football. In Hirnyk, his native town in Donetsk region of Ukraine, the boy attended the football section and was one of the first players of the junior group.
Also, Kyrylo is fond of history, historical maps, likes to watch historical films. The boy really likes to learn and immerse himself in new topics. He wants to learn English. Unfortunately, this is not possible now due to hearing impairment.
Kyrylo strives to live fully. But he needs high-powered hearing aids for this. Their cost is unaffordable for a mother who is raising her son alone and has been disabled since childhood. Please support the displaced family!
Full name: Vegera Kyrylo
Date of birth: 24.12.2013
Diagnosis: Bilateral chronic sensorineural deafness of the III century.
The goal of the project: to raise UAH 49 800 for the purchase of hearing aids
Співробітники CONCORDBANK
23-01-2023
13:49