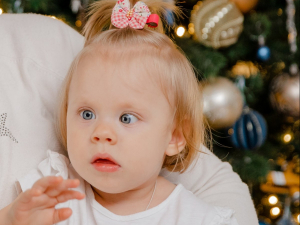 Target:
25000 UAH
Collected:
25000 UAH
Created:
30-01-2023
Completed:
09-03-2023
Status:
Completed
​1.5-YEAR-OLD EVA WITH CP NEEDS YOUR ATTENTION AND SUPPORT! THE GIRL WANTS TO OVERCOME THE CONSEQUENCES OF DIFFICULT DIAGNOSES!
Eva Kozhukhovska was born prematurely - at 31 weeks of pregnancy. Unfortunately, the consequences of this were difficult diagnoses: cerebral palsy, spastic diplegia with persistent severe motor function impairments and lack of independent walking.

Now the girl is 1.5 years old. She is very cheerful and energetic. Eva does not sit or walk on her own yet. But she has a great desire to stand on her feet. To make this possible, Eva needs regular rehabilitation and massages.
After each course, Eva acquires new skills and abilities. Unfortunately, classes with specialists are expensive. The cost of one course is over UAH 25,000, and Eva needs 8 such courses a year. The Kozhuhovsky family cannot cope alone. Please support them!
Full name: Kozhukhovska Eva Maksimivna
Date of birth: 06/08/2021
Diagnosis: Cerebral palsy, spastic diplegia with persistent marked physical motility disorders
The goal of the project: to raise UAH 25,000 to pay for a rehabilitation course at the hippotherapy center
CreditPlus
09-03-2023
15:26
CreditPlus
08-02-2023
14:54