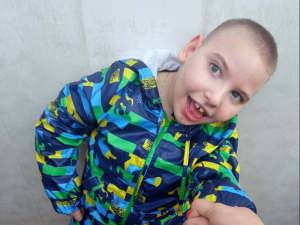 Target:
23634 UAH
Collected:
23634 UAH
Created:
30-01-2023
Completed:
09-03-2023
Status:
Completed
​9-YEAR-OLD IVAN WITH MICROCEPHALY NEEDS REHABILITATION! SUPPORT HIM!
Ivan Korobka was born at the 38th week of pregnancy as a completely healthy baby. However, within an hour the baby stopped breathing. Vanya was in intensive care for two weeks. And from that moment his struggle for life, which continues to this day, began.

In the first six months of life, doctors did not notice any problems. But Ivan's mother drew attention to the fact that her son was developing with a delay. Therefore, she turned to the doctors of the Kyiv Okhmatdyt hospital. The doctors there stunned the family.
Vanya has a number of serious diagnoses: organic damage to the central nervous system, microcephaly, spastic tetraparesis, symptomatic epilepsy, retardation of mental and language development, partial atrophy of the optic nerve.
Since then, Ivan began intensive classes with rehabilitation specialists. Together with their mother, they visited specialists in Truskavets, Vinnytsia, Dnipro, Kharkiv, Kyiv, Odessa. The boy also worked diligently at home.
Thanks to hard work, the boy achieved success. He eats independently, partially understands spoken speech, walks in a walker. Vanya loves cartoons. If earlier he did not understand what it was about, now he began to understand the plot and the language of the characters better.
Over the past year, Vanya has completed 4 rehabilitation courses in his hometown. Now he needs to actively acquire new skills. And the family does not have enough funds to pay for the scheduled rehabilitation course in April. Please help him!
Full name: Korobka Ivan Yevhenovich
Date of birth: 19.04.2013
Diagnosis: Microcephaly, spastic tetraparesis, symptomatic epilepsy, retardation of mental and language development, partial atrophy of the optic nerve
The goal of the project: to raise UAH 23,634 to pay for the rehabilitation course at the International Rehabilitation Clinic of Prof. Kozyavkin
CreditPlus
09-03-2023
15:27
CreditPlus
08-02-2023
14:55