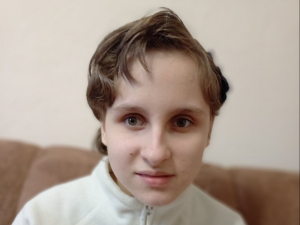 Target:
25000 UAH
Collected:
25000 UAH
Created:
01-02-2023
Completed:
27-02-2023
Status:
Completed
​16-YEAR-OLD KSENIA WITH CP HAS HAD SURGERY AND NEEDS REHABILITATION!
Ksenia Chernovska was born in a difficult condition. The baby was on mechanical ventilation for 3 weeks. During the first months of life, doctors diagnosed the girl with difficult diagnoses, including cerebral palsy. At 4 months, she underwent brain surgery and a blood bypass system was installed. Unfortunately, this surgery had to be repeated in 2011, and three more times 10 years later.

Last year, Ksenia underwent a surgery on her left hip after a dislocation. The girl is still recovering after the last operation. Every day, Ksenia has to fight to reacquire skills.
The girl spent 3 months in bed, 2 of which were in a cast. Because of this, the condition of her musculoskeletal system has deteriorated significantly. Already in April, the girl is expected to have one more scheduled operation to replace her right hip.
So now Ksenia needs rehabilitation classes with specialists. It is difficult for a mother raising children alone to pay for all the necessary measures for her daughter's treatment. Please support the family!
Full name: Chernovska Ksenia Andriivna
Date of birth: 05.02.2007
Diagnosis: cerebral palsy, spastic diplegia with persistent movement disorders. General underdevelopment of language
The goal of the project: to raise UAH 25,000 to pay for the rehabilitation course at the "Victoria" Child Rehabilitation Center
Співробітники CONCORDBANK
27-02-2023
12:47
CreditPlus
08-02-2023
14:55