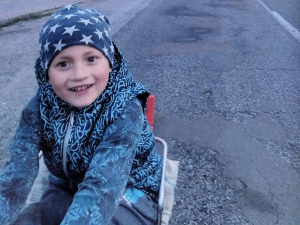 Target:
25000 UAH
Collected:
2615 UAH
Created:
07-03-2023
Status:
Open
MYKHAILO WITH AUTISM IS MAKING PROGRESS, BUT NEEDS REGULAR REHABILITATION. SUPPORT THE GUY!
Mykhailo Shiyan's family learned about their son's diagnosis of childhood autism when the boy was 2 and a half years old. The pediatrician noticed a delay in development and referred the Shiyans to a neurologist at the Kyiv Institute of Pediatrics, Obstetrics and Gynecology. The boy's diagnosis and disability were confirmed.
Since then, Mykhailo and his mother visited the inclusive resource center, the "Brain Stimulation Center", the rehabilitation centers "Victoria" and "A-Clinic". Over the past year, Mykhailo has become more communicative, pays attention to pets, and has changed for the better. He likes activities, jumping on a trampoline, walking in the forest and cycling.
Mykhailo is making noticeable progress, because he has become more attentive and obedient in class. Further development requires regular rehabilitation, which costs a lot. The family cannot cope alone, so the Shiyans are asking for help from everyone who cares. Please support Mykhailo!
Full name: Mykhailo Dmytrovych Shiyan
Date of birth: 06.05.2016
Diagnosis: Children's autism
The goal of the project: to raise UAH 25,000 to pay for the rehabilitation course at the "A-Clinic Berezan" center
EdwardBrave
17-03-2023
16:28
Заєць Ірина
16-03-2023
15:49
Михайло Колодяжний
15-03-2023
23:37