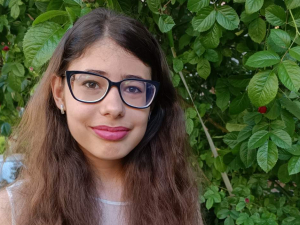 Target:
24840 UAH
Collected:
2027.42 UAH
Created:
16-03-2023
Status:
Open
​NASTYA WITH CP DREAMS OF A HAPPY FUTURE. HELP HER GO TO REHABILITATION IN MAY!
Nastya Kovalenko is 15 years old. She was born during a difficult delivery and spent the first weeks in the hospital. During the year, the baby returned from time to time to the clinic walls, where doctors established new diagnoses for the child again and again. Only at the age of 1 year and 8 months, Nastya was given the final diagnosis, which sounded like a verdict — cerebral palsy, spastic left-sided hemiparesis.

Numerous rehabilitation classes allowed the girl to gradually gain freedom of movement and learn to control her body. Nastya likes to read. She is a fan of Harry Potter books and historical literature. The girl loves animals very much. The family has a dog that was abandoned by its previous owners. Nastya takes care of the dog and plays with it with pleasure.
Now, at the age of 15, Nastya is actively growing. In this period of her life, she needs active regular classes with specialists. Rehabilitation measures must be carried out at least 3-4 times a year. Medical services are very expensive. Unfortunately, Nastya's father also has a serious diagnosis — multiple sclerosis — and is unable to work. Therefore, there is a catastrophic lack of funds for the necessary treatment for my daughter.
Support the Kovalenkos, help them pay for Nastya's training course, scheduled for May!
Full name: Kovalenko Anastasia Vyacheslavivna
Date of birth: 19.02.2007
Diagnosis: cerebral palsy, spastic left hemiparesis. Level I movement disorders
The goal of the project: to raise UAH 24,840 to pay for the rehabilitation course at the International Rehabilitation Clinic of Prof. Kozyavkin