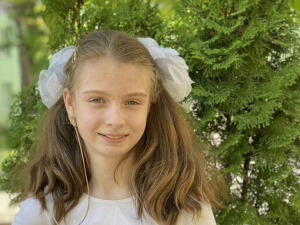 Target:
93699 UAH
Collected:
35708 UAH
Created:
03-04-2023
Status:
Open
​12-YEAR-OLD DASHA NEEDS A HEARING AID! SAVE HER FROM TOTAL SILENCE!
Dasha Karpluk was born prematurely. From the first months of her life, her parents noticed that the baby did not respond to sounds. When Dasha was a little over a year old, she was diagnosed with bilateral sensorineural deafness.

Doctors advised the girl to install a cochlear implant in her right ear. After the surgery, Dasha had a long rehabilitation and adjustment of the implant. Every week Dasha worked with a hearing specialist, a speech and language therapist.
In preschool age, the girl attended a speech therapy kindergarten. It was difficult for her, because the child could not hear with one ear and could not speak. Later, her parents bought Dasha a hearing aid for her left ear. The girl began to pronounce words and sentences, to learn small poems.
Now 12-year-old Dasha is studying at a specialized school for children with hearing impairments. She is a kind, sensitive and active child. Earlier, the girl enjoyed dancing. Now she likes to sing karaoke, paint pictures, weave beads, do hair for herself and her mother. Dashs is interested in knitting and cooking.
During martial law, when education in all schools of the region takes place online, Dasha misses her classmates and live communication very much. Unfortunately, Dasha's hearing impairment greatly interferes with her enjoyment of her childhood. The device on the left ear is already failing. It is increasingly difficult for the girl to hear teachers and communicate.
A new device costs a lot. But without it Dasha will not be able to fully grow and study. Please support the Karpluk family!
Full name: Daria Serhiivna Karpluk
Date of birth: 18.06.2011
Diagnosis: Bilateral chronic cochleitis. Bilateral chronic sensorineural deafness. Cochlear implantation of the right ear in 2013.
The goal of the project: to raise UAH 93,699 for the purchase of hearing aids "Oticon Xceed 1 BTE UP 675 120"
Павельєва Світлана
29-05-2023
10:34
Корнієнко Людмила
24-05-2023
17:09
Dmitry Ivanchenko
16-05-2023
16:25
Dmitry Ivanchenko
16-05-2023
11:34
CreditPlus
04-05-2023
13:06
Анастасія
11-04-2023
20:15
CreditPlus
04-04-2023
10:50