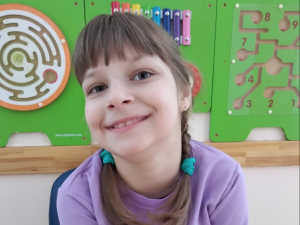 Target:
24908 UAH
Collected:
24908 UAH
Created:
25-04-2023
Completed:
24-05-2023
Status:
Completed
​10-YEAR-OLD SOFIA WITH CP DREAMS OF WALKING INDEPENDENTLY. THE GIRL HOPE FOR SUPPORT!
Sofia was born on time with a weight of 2900 g, but in 3 weeks she began to lose weight. Doctors could not establish the reason. The diagnosis, movement disorder syndrome, was established 8 months later. SInce then, the family began fighting for their daughter's health.

The girl worked with rehabilitators, took meds, visited a massage therapist, a psychologist, and an occupational therapist. Doctors assured that the child should start walking soon. But this did not happen. At the age of 2.5, Sofia was diagnosed with cerebral palsy.
Now the girl is 10. She studies in the 3rd grade on an inclusive form of education. Sofia loves school. She gets great pleasure from studying and communicating with her peers. Most of all, the girl likes design and technology lessons and drawing.
Sofia is a sociable, cheerful and diligent girl who confidently works to take her first independent steps. Now the girl sits on her own, crawls and moves around the room on her knees. Tries to speak, albeit indistinctly.
The girl works diligently to acquire each new skill and dreams of walking independently. For this, she needs regular classes with specialists. Please help the Bachynskyi family to get Sofiyka back on her feet!
Full name: Sofia Mykhaylivna Bachynska
Date of birth: 09.09.2012
Diagnosis: cerebral palsy, spastic tetraparesis syndrome in the stage of alternating crawling, independent sitting. Level IV motor disorders
The goal of the project: to raise UAH 24,908 to pay for the rehabilitation course at the International Rehabilitation Clinic of Prof. Kozyavkin