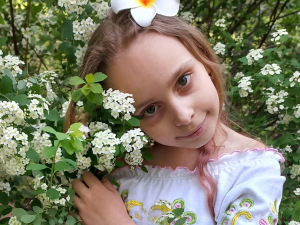 Target:
128500 UAH
Collected:
128500 UAH
Created:
04-05-2023
Completed:
08-11-2023
Status:
Completed
​10-YEAR-OLD OLESYA WITH A HEARING DEFECT NEEDS MODERN HEARING AIDS. GIVE HER A HEALTHY CHILDHOOD!
Olesya Golovko was born in Luhansk. Since birth, the girl had health problems: hypertension, digestive problems and weight gain. At the age of 3 months, Olesya was diagnosed with a syndrome of movement disorders due to damage to the CNS. The parents made every effort to treat their daughter. Olesya visited the pool and did exercise.

At 1.2 years old, the child fell ill with purulent otitis and acute ethmoiditis. At the same time, the occupation of Luhansk began and the family was forced to move to Severodonetsk. Olesya was often sick with SARS. All colds ended with inflammation: sinusitis, rhinopharyngitis, bronchitis, otitis, etc. The girl was in hospitals for a long time.
It was during the acute phase of one of the diseases that Olesya's parents noticed that Olesya was hard of hearing and sounded the alarm. In the end, the diagnosis was established: acute bilateral tubotitis, adenoids of the 2nd degree. The otolaryngologist recommended removing the adenoids, because their size affected the child's hearing.
After the adenoids were removed, the child began to hear better. Olesya worked with speech therapists, because her poor hearing affected her ability to reproduce sounds. It was difficult for her to study. When Olesya studied in the 2nd grade, her hearing deteriorated again. The test revealed bilateral sensorineural deafness of the first degree in the child.
Then the parents were able to purchase hearing aids intended for Olesya. However, the devices did not help the girl hear better. Now the family lives in Dnipro. Local specialists clarified the diagnosis and recommended hearing aids that can solve the problem.
Olesya is very active, cheerful, smart and open-minded. She likes to communicate in class, read, count. Draws well, models, and prefers creative tasks. He studies English, practices judo and swimming.
Unfortunately, the family of forced migrants is unable to purchase hearing aids for their daughter on their own. Please support Olesya! Give the child a chance for a healthy future!
Full name: Olesya Oleksandrivna Golovko
Date of birth: 15.02.2013
Diagnosis: Neurosensory bilateral hearing loss of the II degree
The goal of the project: to raise UAH 128,500 for the purchase of hearing aids "Widex Moment MRR2D" (RC-mRic R D) (220) and a charger for them
Details for providing charitable assistance:
Recipient: BF "CHARITY EXCHANGE "DOBRODIY"
EDRPOU 39308149
y/y IBAN UA553282090000026002000025224
JOINT STOCK BANK "PIVDENNYI" MFI 328209
Purpose of payment: "Charitable contribution for Olesya Golovko (project No. 1401)"
CreditPlus
13-11-2023
12:34
CreditPlus
08-11-2023
16:54
Mariya Bakuta
01-11-2023
17:22
CreditPlus
02-10-2023
18:25
Олександр, Катерина
14-09-2023
10:38
Iльмiнська Iрина
19-08-2023
04:08
CreditPlus
10-08-2023
11:10
CreditPlus
13-07-2023
13:14
CreditPlus
13-06-2023
11:57
Олександр
16-05-2023
21:24
Володько Надiя Iванiвна
06-05-2023
13:55
Юлія Шевандіна
06-05-2023
08:12
Вікторія
05-05-2023
09:40
​10-річна Олеся Головко нарешті отримала довгоочікувані слухові апарати!
Збір на придбання надпотужних слухових пристроїв для дівчинки тривав цілих півроку, і вчора дитина отримала апарати та зможе чути оточуючий світ!