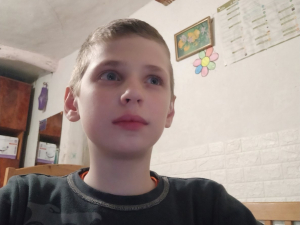 Target:
188106 UAH
Collected:
22592 UAH
Created:
12-06-2023
Status:
Open
​12-YEAR-OLD MUHAMMAD WITH HEARING DAMAGE NEEDS HEARING AIDS! HELP THE TEEN NOT TO PLUNGE INTO COMPLETE SILENCE!
Muhammad Tsebenko was born in 2011 in Shakhtarsk, Donetsk region. When the war came to the east of Ukraine, the Tsebenko family moved to Zaporizhzhia, and later settled in Dnipro. Here, a large family started everything from the beginning. It seemed that the worst was over.

Unfortunately, at the age of 3, Muhammad did not speak. Parents sounded the alarm. The tests revealed bilateral sensorineural deafness of the 2nd degree. This meant that the child could hardly hear anything! It was impossible to improve Muhammad's hearing, but it was necessary to prevent its complete loss. For this, he took medicine and used hearing aids.
Muhammad grows up as an active and courageous young man. He likes cycling, climbs trees with pleasure. The boy also has a passion for drawing. Unfortunately, the hearing aids used by the teenager broke down. So Muhammad needs new devices. After all, only with their help he is able to hear the world.
Please help the boy not to fall into complete silence! Support the Tsebenko family and Muhammad, because his father and older brother are now defending the sovereignty of Ukraine!
Full name: Tsebenko Muhammad Vitaliyovych
Date of birth: 14.01.2011
Diagnosis: Chronic bilateral cochleitis. Chronic bilateral sensorineural deafness of the III century.
The goal of the project: to raise UAH 188,106 for the purchase of hearing aids "Oticon Opn Play 1 BTE PP 13 105"
Details for providing charitable assistance:
Recipient: BF "CHARITY EXCHANGE "DOBRODIY"
EDRPOU 39308149
y/y IBAN UA553282090000026002000025224
JOINT STOCK BANK "PIVDENNYI" MFI 328209
Purpose of payment: "Charitable contribution for Tsebenkо Muhammad (project No. 1430)"
Ткаченко Анастасія Сергіївна
24-11-2023
16:19
CreditPlus
10-08-2023
11:10
CreditPlus
13-07-2023
13:17