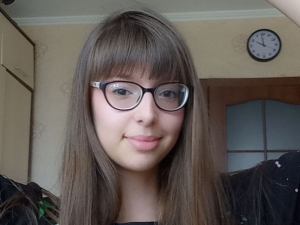 Target:
183800 UAH
Collected:
29919.92 UAH
Created:
17-07-2023
Status:
Open
​15-YEAR-OLD DASHA WITH IV DEGREE SCOLIOSIS NEEDS URGENT SURGERY!
Dasha Shcherbanenko was almost 6 years old when a kindergarten nurse suspected that the girl had scoliosis. The parents turned to the regional children's hospital, where a traumatologist confirmed the diagnosis. At that time, the family could not imagine how serious he could be.

Dasha was installed with a special corset, which required correction twice a year. The child suffered because of the uncomfortable and tight corset, cried and even refused to go to school. And it was necessary to wear it almost continuously, without taking it off.
Dasha has been swimming for 4 years and enjoyed visiting the pool. The girl was also engaged in physical therapy and went to massages. But 2 months after the last correction of the corset, Dasha's mother noticed significant negative changes in her daughter's posture. The family turned to Okhmatdyt clinic. There, the doctor insisted on the need for surgery.
Dasha is a sincere girl who has many friends. She loves to read and collects her own library. Dasha dreams of being healthy and having a straight back. She really wants to wear beautiful dresses and just enjoy her teenage life. The girl really hopes that the surgery will change her life for the better! Please support Dasha!
Full name: Shcherbanenko Darya Yuriivna
Date of birth: 11/15/2007
Diagnosis: scoliosis of the IV degree.
The goal of the project: to raise UAH 183,800 for the purchase of a set of implants of the Socore system for the correction and stabilization of the spine
Details for providing charitable assistance:
Recipient: BF "CHARITY EXCHANGE "DOBRODIY"
EDRPOU 39308149
y/y IBAN UA553282090000026002000025224
JOINT STOCK BANK "PIVDENNYI" MFI 328209
Purpose of payment: "Charitable contribution for Daria Shcherbanenko (project No. 1454)"
Ткач Iгор
21-09-2023
14:47
litoral7
19-09-2023
14:59
CreditPlus
10-08-2023
11:09
Перерозподіл коштів з проєкту 1293 (Сорокова Злата)
04-08-2023
16:46
Перерозподіл коштів з проєкту 1408 (Кірнос Артем)
26-07-2023
16:18