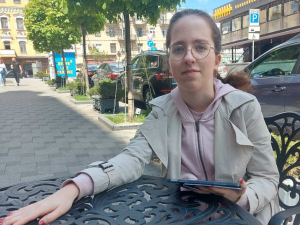 Target:
24711.5 UAH
Collected:
24711.5 UAH
Created:
27-07-2023
Completed:
18-09-2023
Status:
Completed
​15-YEAR-OLD IRYNA WITH SEVERE DIAGNOSES DREAMS OF BECOMING AN EDITING DIRECTOR. PLEASE SUPPORT THE GIRL!
Iryna was born on time, and on the fifth day she and her mother were discharged home from the hospital. The child developed without delay, but at 3 months, relatives noticed that the baby stopped holding her head and turning over. Neurosonography revealed occlusive hydrocephalus in Iryna. At 6 months, the baby underwent brain surgery.

A month after the surgery, the girl was discharged from the hospital. Although the operation was successful, Iryna lost almost all her skills. From that moment, all efforts were made to restore the child. The girl worked with rehabilitators, attended massages.
In the spring of 2019, Iryna underwent surgery on the hip joints of both legs and the right ankle joint. After that, the girl worked hard again with specialists. She learned to walk with support.
Now Iryna is 15 years old. Over many years of hard work, she has achieved many skills. The girl studies in a secondary school. Of the subjects, he likes biology, geography, and English the most. Iryna enthusiastically studies various computer programs, including Photoshop. In the future, the girl dreams of becoming an editing director.
In order for the girl's dreams to come true, she needs to work on confident independent walking. This requires the help of rehabilitation specialists. The family cannot pay for the courses on their own. Iryna is raised by her mother and grandmother. The girl's natural father died.
Please help Iryna get into the rehabilitation course scheduled for October!
Full name: Iryna Myroslavivna Lukashuk
Date of birth: 01.10.2007
Diagnosis: Malformation of the vein of Halen. Compensated hydrocephalus was operated on. Spastic tetraparesis
The goal of the project: to collect UAH 24,711.50 to pay for the rehabilitation course at the International Rehabilitation Clinic of Prof. Kozyavkin
Details for providing charitable assistance:
Recipient: BF "CHARITY EXCHANGE "DOBRODIY"
EDRPOU 39308149
y/y IBAN UA553282090000026002000025224
JOINT STOCK BANK "PIVDENNYI" MFI 328209
Purpose of payment: "Charitable contribution for Iryna Lukashuk (project No. 1461)"