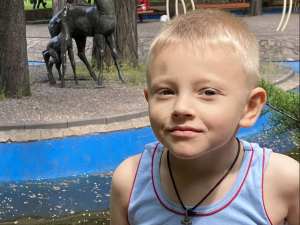 Target:
32000 UAH
Collected:
13111 UAH
Created:
04-09-2023
Status:
Open
​THE LIFE OF 5-YEAR-OLD TIMUR DEPENDS ON THE ACCEPTANCE OF AN EXPENSIVE DRUG! YOUR HELP IS NEEDED!
2 years ago, Timur Shaidets first encountered his own insidious diagnosis — blood clotting disorder. This disease may not become a verdict for the boy only under the condition of regular therapy with the use of the expensive drug "Revolad". Without it, Timur can die from the slightest scratch!

In order to help their son, the parents had to get into debt. And now, when Timur's father has lost a stable income because of the war, the family thinks with horror about their son's future.
Fortunately, in recent months, the state has partially provided the boy with Revolad. However, sometimes the family has to buy an important drug for their son on their own. In addition, the boy needs health monitoring. Therefore, a separate item in the family budget of the Shaidets is systematic laboratory analysis.
Despite the diagnosis, Timur is a very cheerful boy. He grows up as an active child, interested in everything he sees around him. Timur loves his dog very much, it is his best friend. And he enjoys playing in the sand, dancing and drawing.
Please help him live! The family cannot cope without your support!
Full name: Timur Oleksandrovych Shaidets
Date of birth: 11.05.2018
Diagnosis: Idiopathic thrombocytopenic purpura, recurrent course
The goal of the project: to raise UAH 32,000 for the purchase of the hemostatic agent "Revolad"


REQUIREMENTS FOR PROVIDING CHARITY AID:
Recipient: CF "CHARITY EXCHANGE "DOBRODIY"
Unified State Register \ EDRPOU Code 39308149
IBAN UA553282090000026002000025224
BANK "PIVDENNYI" MFI 328209
Purpose of payment: "Charity contribution for Timur Shaidets project No. 1482"