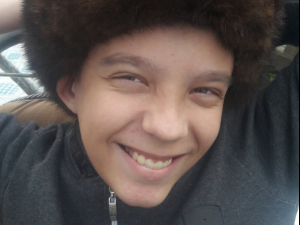 Target:
263800 UAH
Collected:
9004.4 UAH
Created:
08-09-2023
Status:
Open
​14-YEAR-OLD OLEG WITH SCOLIOSIS NEEDS SPINE SURGERY!
Oleg Rayenok was born at the 26th week of pregnancy with a weight of only 980 g! Since birth, the boy has been fighting for his health: he regularly works with rehabilitation specialists, diligently performs exercises at home.
At the age of 5, Oleg learned to walk, covering short distances. In 2021, the boy underwent an operation on his legs. Unfortunately, the intervention was unsuccessful. It not only did not contribute to positive dynamics, but also caused regression. Now Oleg walks with a walker, he gets tired quickly. And most importantly, the boy's scoliosis is progressing. The curvature of the spine puts pressure on the internal organs and provokes their displacement.
14-year-old Oleg is studying in an inclusive form of education. He is calm, polite, responsible, respectful of elders, and a patriot of Ukraine. He has a good memory. Oleg's greatest passion is sports games. He likes to attend basketball and hockey games. And he is passionate about football. Oleg dreams of chasing the ball on the field.
Oleg is an active and caring teenager who painfully experiences the tragic events in Ukraine, loves to study and volunteers at a charity organization. Now the boy needs your support. To stop the development of scoliosis, it is necessary to do a special operation. The cost of the structure, which will help straighten the spine, is unaffordable for the family. Please help Oleg to live a full life without pain in his back and internal organs!
Full name: Rayenok Oleg Volodymyrovych
Date of birth: 25.01.2009
Diagnosis: cerebral palsy, spastic diplegia, dysarthria. IV century scoliosis
The goal of the project: to raise UAH 263,800 for the purchase of a set of implants of the Socore system for the correction and stabilization of the spine
REQUIREMENTS FOR PROVIDING CHARITY AID:
BENEFICIARY: CF "CHARITY EXCHANGE "DOBRODIY"
EDRPOU (National State Registry) 39308149
IBAN UA553282090000026002000025224
PIVDENNYI BANK \ code 328209
DETAILS OF PAYMENT: "Charitable contribution for Rayenok Oleg project No. 1485"
Анатолий
24-09-2023
11:54
Джалiлова Валентина
24-09-2023
09:42
Світлана
21-09-2023
16:40
Анатолій
19-09-2023
15:45
Тищенко Євгенія
16-09-2023
20:54
Цуран Наталія
14-09-2023
22:13
Бесараб Ольга
14-09-2023
16:10
Сидорчук Дмитрій
13-09-2023
21:41
Бєляєва Юлія
13-09-2023
21:27
Юлія Лоцман
13-09-2023
07:54
Миколайчук Лілія
11-09-2023
22:58
Панченко Тетяна
11-09-2023
21:30
Юрьєва Вiкторiя
11-09-2023
09:32
УСТИМЕНКО ЛЮБОВ
10-09-2023
12:36
Вікторія
09-09-2023
13:21
g-marina
08-09-2023
22:18
Лахтадир Олена
08-09-2023
14:56