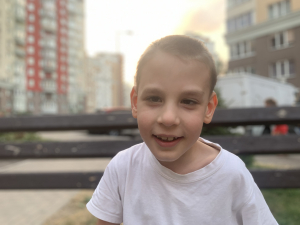 Target:
12800 UAH
Collected:
12800 UAH
Created:
18-09-2023
Completed:
19-09-2023
Status:
Completed
​6-YEAR-OLD DMYTRO WITH EPI-ACTIVITY NEEDS AN EXPENSIVE BRAIN EXAMINATION!
Dmytro Shevchenko was born prematurely. On the 3rd day of life, the baby had a brain hemorrhage. The child was staying in a coma for several months. Fortunately, the boy was clinging to life. But he got a number of disappointing diagnoses: hydrocephalus, microcephaly, malformation of the brain, pseudobulbar syndrome, symptomatic epilepsy.

Dmytro was treated for a long time in the walls of Okhmatdyt, and a heart bypass was performed. When the boy finally got home, he smiled for the first time in 6 months. Dmytro was on nasogastric feeding for about a year. Later he learned to eat from a spoon.
Now the boy walks with support, rides a bicycle, likes to swim, studies hard and diligently, takes an example from his older brother. Thus, Dmytro tries to imitate and follow the 15-year-old teenager.
Currently, Dmytro needs a valuable examination - nightly monitoring of brain activity. This will help monitor the boy's health and, if necessary, adjust the therapy so that the child does not suffer from epileptic seizures.
The family budget is exhausted. The family is asking for help from everyone who cares!
Full name: Dmytro Sergiyovych Shevchenko
Date of birth: 09.11.2016
Diagnosis: cerebral palsy, spastic tetraparesis. Underdevelopment of speech. Symptomatic epilepsy
The goal of the project: to raise UAH 12,800 to pay for a course of diagnostics at the "Epi.net" clinic


REQUIREMENTS FOR PROVIDING CHARITY AID:
BENEFICIARY: CF "CHARITY EXCHANGE "DOBRODIY"

EDRPOU (National State Registry) 39308149
IBAN UA553282090000026002000025224
PIVDENNYI BANK \ code 328209
DETAILS OF PAYMENT: "Charitable contribution for Dmytro Shevchenko project No. 1492"
Flamingo
19-09-2023
16:39
Колосова Олена
19-09-2023
16:32
Ребікова Людмила
19-09-2023
16:04
Товстенко Вадим Юрійович
19-09-2023
12:06
Старунська Тетяна
19-09-2023
07:19
osadchaya
19-09-2023
06:42
Лілія Чіпак
19-09-2023
00:05
Бiлокур Ольга
18-09-2023
22:03
armolenkoludmila
18-09-2023
21:15
Ольга Кяпп
18-09-2023
18:29
Ковтун Олена
18-09-2023
14:00