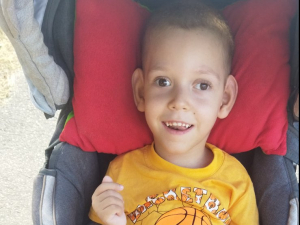 Target:
25000 UAH
Collected:
100 UAH
Created:
08-11-2023
Status:
Open
​5-YEAR-OLD MAKSYM WITH CP AND EPILEPSY NEEDS A SCHEDULED COURSE OF REHABILITATION IN FEBRUARY!
From the first minute of his life, Maksym Kopylov began to fight for his own life and health, because the boy, who is now 5 years old, has a delay in psycho-linguistic development and a number of other difficult diagnoses. At 4 months, the baby was prescribed syrup to stimulate the brain. Since then, the boy started having convulsions.

Another 4 months later, the family decided to consult with another neurologist. The new doctor adjusted Maksym's treatment, thanks to which the boy entered a 3-year remission. At the same time, the child was diagnosed with cerebral palsy, spastic tetraparesis, and symptomatic epilepsy.
Unfortunately, since June, Maksym has been suffering from seizures again. The boy cannot sit and walk on his own. The child does not speak at all. Rehabilitation courses help the boy get rid of painful spasticity and acquire new skills. The family dreams of getting their son back on his feet! Therefore, they ask for help from everyone who cares.
Please help Maksym to go to the planned rehabilitation course in February!
Full name: Maksym Romanovych Kopylov
Date of birth: 13.09.2018
Diagnosis: cerebral palsy, spastic tetraparesis, symptomatic epilepsy, delay in psycholinguistic development
The goal of the project: to raise UAH 25,000 to pay for the rehabilitation course at "A-Clinic Berezan"



REQUIREMENTS FOR PROVIDING CHARITY AID:
BENEFICIARY: CF "CHARITY EXCHANGE "DOBRODIY"
EDRPOU (National State Registry) 39308149
IBAN UA553282090000026002000025224
PIVDENNYI BANK \ code 328209
DETAILS OF PAYMENT: "Charitable contribution for Maksym Kopylov project No. 1529"