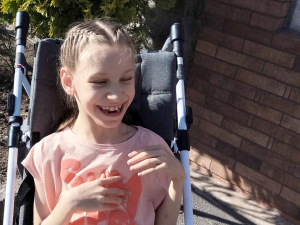 Target:
25000 UAH
Collected:
100 UAH
Created:
08-11-2023
Status:
Open
​HELP 9-YEAR-OLD ARINA WITH SEVERE DIAGNOSES TO GET ON HER FEET!
Arina Pariy was born prematurely, at 31 weeks of pregnancy with a weight of only 1480 grams. The girl spent several long months in the walls of the hospital, where she desperately fought for her life. When Arina was just over a year old, she was diagnosed with cerebral palsy, spastic diplegia with persistent severe motor function impairment.

For 9 years, Arina has been faithfully working with rehabilitation specialists, a speech therapist, a defectologist, and a psychologist. The girl's mother is raising her daughter alone - unfortunately, Arina's father died last year.
This September, the child went to the first grade of the rehabilitation and educational institution "Dovira". Arina really likes to work with teachers and specialists, play, and attend school.
Currently, the girl can partially speak, knows colors. She really wants to acquire as many skills as possible and catch up with her peers in development. Please help the child get into the rehabilitation course scheduled for February!
Full name: Pariy Arina Dmytrivna
Date of birth: 26.04.2014
Diagnosis: Cerebral palsy, spastic diplegia with persistent pronounced movement disorders. Syndrome of cognitive disorders
The goal of the project: to raise UAH 25,000 to pay for a rehabilitation course at the "Halychyna" Complex Rehabilitation Center


REQUIREMENTS FOR PROVIDING CHARITY AID:
BENEFICIARY: CF "CHARITY EXCHANGE "DOBRODIY"
EDRPOU (National State Registry) 39308149
IBAN UA553282090000026002000025224
PIVDENNYI BANK \ code 328209
DETAILS OF PAYMENT: "Charitable contribution for Arina Pariy project No. 1530"

Бесараб Ольга
09-11-2023
16:46