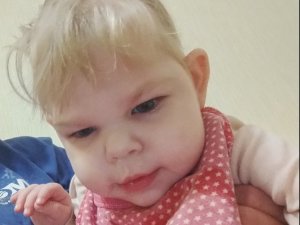 Target:
25000 UAH
Collected:
200 UAH
Created:
16-11-2023
Status:
Open
​LITTLE VIKTORIA WITH MICROCEPHALY NEEDS REHABILITATION IN FEBRUARY!
At the end of February last year, the Lisovsky family from the village of Ukrainka, Kyiv region, was expecting their third child, daughter Vika. The start of a full-scale war became a stress that was evident. So the childbirth began later than the expected date.

On the second day of life, the baby fell into a coma. Vika was alive, but for 8 long days she did not show any signs, she was breathing with the help of a ventilator and was constantly on drips.
The baby spent two weeks in intensive care. The girl was diagnosed with cerebral edema, movement disorder syndrome, convulsions and microcephaly. During the first year of her life, Vika completed three rehabilitation courses. Now doctors are predicting good dynamics for her, because it is still possible to repair the brain damage in up to two years.
The girl needs to visit rehabilitation centers every two to three months. Currently, Vika is almost sitting up on her own and raising her head, but her relatives hope that all the achievements are yet to come. But now, more than ever, they need our financial support. Help the little girl get through a planned rehab course in February!
Full name: Viktoria Valentynivna Lisovska
Date of birth: 28.02.2022
Diagnosis: Microcephaly, spastic tetraparesis
The goal of the project: to raise UAH 25,000 to pay for the rehabilitation course at the Victoria Child Rehabilitation Center


REQUIREMENTS FOR PROVIDING CHARITY AID:
BENEFICIARY: CF "CHARITY EXCHANGE "DOBRODIY"
EDRPOU (National State Registry) 39308149
IBAN UA553282090000026002000025224
PIVDENNYI BANK \ code 328209
DETAILS OF PAYMENT: "Charitable contribution for Viktoria Lisovska project No. 1533"

Бесараб Ольга
16-11-2023
21:20