​50,000,000 UAH FOR 100 DAYS!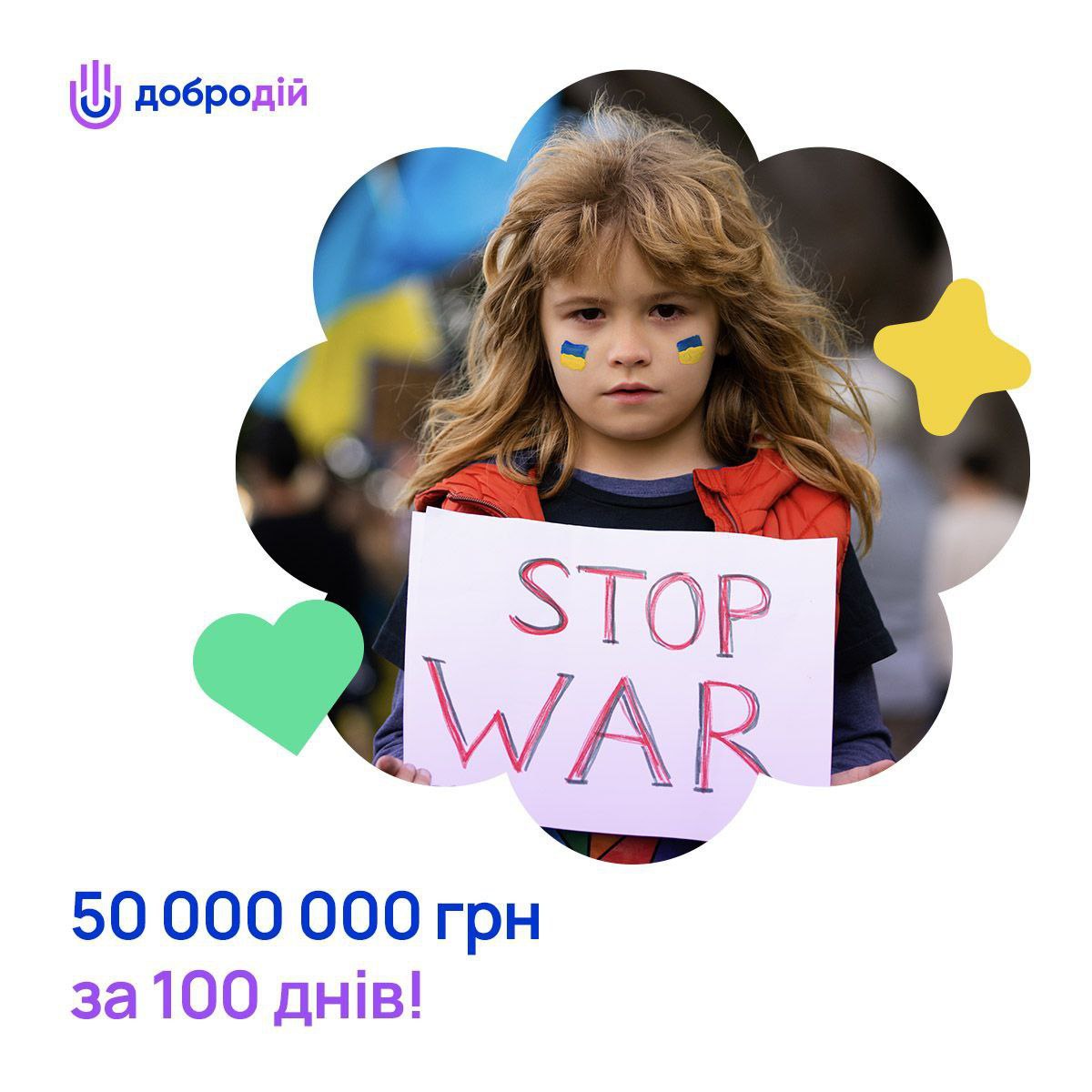 We are confidently stepping into a victorious summer! We believe that the Ukrainian sky will soon become peaceful! And we are doing everything possible to bring victory and liberation of the whole of Ukraine closer in cooperation with our partners!
Let's summarize the work of the Exchange for the entire period of the war and for May in particular.
From the beginning of the full-scale invasion till May 31, due to the support and joint efforts of all partners of the Exchange, we have provided assistance, which is estimated at a total of UAH 50 million! Namely:
— Armed Forces — by UAH 33.4 million.
— basic hospitals — by UAH 4.1 million.
— seriously ill children — by UAH 384 thousand.
— provided humanitarian aid totaling UAH 12 million.
During May, with the support of Concord Fintech Solutions and other partners, the DobroDiy Charity Exchange provided assistance estimated at UAH 2.7 million!
— Armed Forces for UAH 1.8 million.

In particular, the following were purchased and transferred to military units:
- 2 Autel EVO II PRO quadcopters;
- 6 thermal imagers: 1 ThermEye Cyclops 335 and 5 thermal spotters DALI S243W;
- set of tires 245 / 75R16;
- military equipment in the range.
— 5 basic medical institutions of Dnipro in the form of consumables, medicines and equipment for the total amount of about UAH 800,000.
In particular, a device for the treatment of wounds with negative pressure NP-100 and consumables for it in the amount of UAH 257,656. This device helps to heal wounds by removing exudates and infectious material, preparing the wound to close.
— seriously ill children.
In the vortex of wartime, we do not forget about our main area of assistance — children with severe diagnoses. The wards of the Exchange, suffering from cancer, Down syndrome, epilepsy, received vital supportive drugs and medical services totaling UAH 85,000.
Thank you, partners! Together we help Ukraine win!
News about Marijka Masych, who is fighting for her life at the Mother and Child Center
An 8-month-old girl with esophageal atresia is finally breathing on her own! Unfortunately, the baby faced a new challenge.
​UAH 800,000 FOR AN UPDATED AND REPAIRED TRAUMA SURGERY ROOM IN THE DNIPRO HOSPITAL!
The doctors work overtime, literally to the point of exhaustion, and the technical conditions of some premises until recently did...
​UAH 200,000 FROM CREDITPLUS TO HELP SEVERELY ILL CHILDREN !!!
We are glad to have reliable partners like CreditPlus who share our values and the principle of systemic assistance. Once...