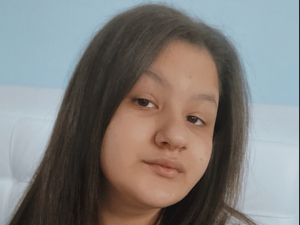 Target:
150372 UAH
Collected:
39000 UAH
Created:
17-02-2023
Status:
Open
​HELP 17-YEAR-OLD MARINA BUY HEARING AIDS!
Marina Guba was born with a difficult diagnosis — perinatal hypoxic-traumatic damage to the central nervous system. As a result of congenital pathologies, she developed hearing problems. At the age of 5, the girl was diagnosed with bilateral sensorineural deafness. The only way to help Marina was to install hearing aids.

In April 2015, during another examination, doctors discovered hearing loss. So the girl's diagnosis was corrected. Now it is accurately defined as deafness of the II degree on the right and III-IV degree on the left side.
Marina practically did not hear. Because of this, the girl suffered as she could not fully communicate with her peers. Marina had to ask to repeat constantly. Because of this, she was withdrawn, did not communicate much, and spent most of her time at home in front of the computer.
To ensure auditory development and social adaptation, Marina was shown binaural prosthetics with Oticоn hearing aids. In 2016, the long-awaited devices were installed on the girl. Since then, the child's life has changed radically, Marina's speech has improved, she has become better at studying, has become more open in communication and found new friends.
But, unfortunately, after almost 7 years, the hearing aids started to fail. Marina's life can again plunge into complete silence! And a mother raising a teenage daughter alone cannot afford expensive hearing aids. In addition, due to constant bombing of the city by russian troops, the family was forced to leave their native home in Nikopol.
Please help Marina live a full life, hear the world, make friends and learn!
Full name: Guba Maryna Oleksandrivna
Date of birth: 07/08/2005
Diagnosis: Neurosensory hearing loss of the III degree.
The goal of the project: to raise UAH 150,372 for the purchase of hearing aids "Oticon Play PX 2 mini Rite T" and two telephone systems "Speaker Unit Minifit 85 2 L"
Yaryna Швеція
15-03-2023
14:05
Команда Амелії
15-03-2023
14:04
SlonCredit
14-03-2023
09:48
Команда Амелії
14-03-2023
09:25
Команда Амелії
14-03-2023
09:23
Лариса Голікова
13-03-2023
10:36
Команда Амелії
13-03-2023
10:34
Лариса Голікова
12-03-2023
11:13
Команда Амелії
12-03-2023
11:11
Yaryna Швеція
12-03-2023
10:53
Команда Амелії
12-03-2023
10:51
Команда Амелії
11-03-2023
11:16
Команда Амелії
11-03-2023
11:01
CreditPlus
09-03-2023
15:29
Yaryna Швеція
09-03-2023
13:59
Yaryna Швеція
09-03-2023
12:44
Yaryna Швеція
09-03-2023
12:42
Команда Амелії
08-03-2023
11:36
Команда Амелії
08-03-2023
11:23
Лариса Голікова
07-03-2023
17:22
Лариса Голікова
07-03-2023
17:14
Алёна и Николай
03-03-2023
09:19
Лідія Юдіна
24-02-2023
14:37
Марченко Юлiя Миколаївна
22-02-2023
17:34
Марченко Юлiя Миколаївна
22-02-2023
11:02
Александр
21-02-2023
14:11