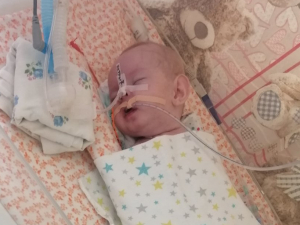 Target:
70000 UAH
Collected:
39590.2 UAH
Created:
25-07-2023
Status:
Open
​6-MONTH-OLD MARIYKA WITH ESOPHAGEAL ATRESIA IS IN ICU! THE GIRL NEEDS EXPENSIVE TREATMENT!
Twice in a row, we initiated fundraising to support 6-month-old Maria Masych, who was born prematurely and has congenital pathologies. The child needs expensive treatment and today we started the third fundraising for medicines for her.

Recently, the girl turned 6 months old. All this time she is in the intensive care unit of the Mother and Child Center named after Prof. Rudnev. Doctors are fighting for her life. And Mariyka herself is clinging to the chance of recovery.
The child was born with an underdeveloped esophagus and underwent 4 surgeries. Now the baby is in serious condition and needs special food and medicine. The girl has not been able to breathe on her own for about two months and is on a ventilator.
Maria's parents are forced migrants from Donetsk region. It is extremely difficult for the family to pay for their daughter's treatment on their own. Every week, Maria needs medicines, the cost of which reaches UAH 10,000!
Please support the baby, who is holding on to life with all his might!
Full name: Maria Pavlovna Masych
Date of birth: 22.01.2023
Diagnosis: Esophageal atresia. Pneumonia. State after the "Esophageal anastomosis" operation
The goal of the project: to raise UAH 70,000 for the purchase of medicines and special food
Бесараб Ольга
28-09-2023
19:14
Долгополова Юлiя
23-09-2023
18:23
Малишева Веронiка
18-09-2023
09:21
ТОВ "ПРОМЗАПЧАСТЬ"
08-09-2023
20:23
igor.budzak
07-09-2023
23:35
Пупена Іван
07-09-2023
11:37
Бесараб Ольга
07-09-2023
11:27
Iльяшенко Артем
06-09-2023
18:51
Федун Iгор
06-09-2023
15:59
Колосова Олена
06-09-2023
14:15
Скрипник Інна
06-09-2023
14:00
Полєгаєв Володимир
06-09-2023
13:36
Перерозподіл коштів з проєкту 1307 (Сітало Кирило)
15-08-2023
11:13
CreditPlus
10-08-2023
11:01
Крижановська Надiя
06-08-2023
04:06
Катерина
01-08-2023
18:41
Співробітники CONCORDBANK
27-07-2023
10:30
Новини про Марійку Масич, що бореться за своє життя у Центрі матері та дитини
8-місячна дівчинка із атрезією стравоходу нарешті дихає самостійно! На жаль, немовля зіштовхнулось із новим викликом.